Shop
Showing all 3 results
Accept Yourself Hypnotherapy Session
"I absolutely love, love, love this. I love the sound of your calm, soothing voice. I listened to it twice, once last night and again this morning. Bless you Andrew!"

Susan, Brighton
Nasruddin had lost his keys at night and was bent over checking every inch of pavement under a streetlamp looking for them.
"
Where did you lose them?" his friend asked.
"Over there in the forest," replied Nasruddin.
"If you lost them over there in the forest, why are you checking here?"
"There's more light over here," replied Nasruddin.
---
Looking for validation from others or your achievements that you are fundamentally OK can get you in a world of perfectionism, people pleasing and trouble. It is healthy to change your behaviour based on feedback while feeling basically OK as a person  In fact, it is that basic self acceptance that allows you to bypass defensiveness and develop. If you
find it hard to receive negative feedback
are often too hard on yourself
seek validation through pleasing others or your achievements
numb or distract yourself from difficult feelings with TV, alcohol or Facebook
then improving your relationship with yourself could be a good start. This instantly downloadable hypnotherapy session is to help you do just that.
11 minute audio lesson to help you find new perspectives in your thinking
23 minute relaxing hypnosis session to help you re-connect with the experience of being at peace with yourself
not rated
£

5.95
Add to cart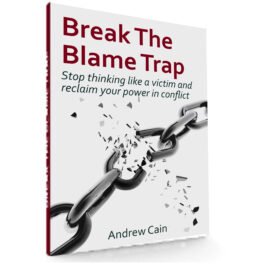 Break the Blame Trap eBook
"Very informative and thought provoking.  Everyone should read and understand this, then we could all live more peaceful, happy lives!" Julie, UK "A bouillon cube of good advice :)" Line, Denmark
How blame double crosses you
Six ways blame steals your power
The inbuilt weakness in human psychology blame exploits to make you helpless
How to turn blame and resentment into holding people to account
How to use the 'pain iceberg' to disentangle different parts of a conflict
Eight ways to deal with your triggered emotions
Eight ways to reclaim your power and start negotiating for what you want
Comes as both 38 page PDF and 59 page Kindle.
Kindle only version also available on Amazon here.
not rated
£

3.50
Add to cart
Feel Calmer Relaxation Training
Learned Calm – Control Anxiety
The surface of a pool of water needs to be calm reflect things clearly. Your mind is the same. When you learn to deliberately soothe your emotions, you can begin to see more clearly and act more confidently. This product contains two mp3 files and introductory training and a self hypnosis relaxation session to teach you how to use what you have learned.
Introduction (5 minutes). Teaches you a powerful breathing technique you can use to soothe your emotions whenever you need to.
Self hypnosis relaxation (18 minutes). This deeply relaxing self hypnosis relaxation track will allow you to get used to feeling deeply calm and relaxed again and again until it becomes second nature.
not rated
£

5.95
Add to cart